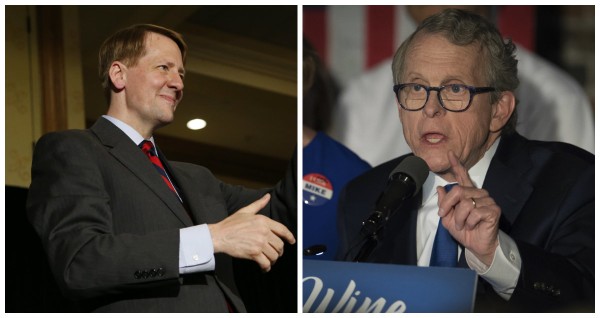 Cordray to face DeWine…state yawns
Democrat Richard Cordray swamped Dennis Kucinich in a much bigger victory than most expected 62%-23%. This sets up a rematch from the 2010 election when then-Attorney General Cordray lost to the current Attorney General DeWine, who soundly defeated Lieutenant Governor Mary Taylor. Neither one of these men  will win an election for most charismatic Ohioan, which is reassuring to a certain degree, and they're both competent men. They're reserved natures might make one suggest neither will elicit a lot of hatred, though after watching the bitterness of the Republican primary, liberals and Democrats had better be ready. Conservatives in the Trump-era care less about truth or even governing, but more about  winning and demeaning their opponents and their supporters. Brent Larkin illustrates this point sharply in his online column today
Perhaps the biggest shockers locally was the defeat of former Cleveland City Council President and current State Rep. Martin Sweeney in the primary of State Senate district 23 where another State Rep., Nickie Antonio's grit and Sweeney's ghosts led to his defeat. It was close all night until Antonio's native Lakewood came in late and she won by an astounding 10 points.
Sadly, the head of the Cuyahoga County Progressive Caucus, a genuine force in Cleveland over the last 2 years, was defeated in a bid for Sweeney's current Statehouse seat to Sweeney's daughter. Three people split the anti-Sweeney vote but he made a heckuva run and he might be even more important here in the county leading the CCPC.
One of the most confounding things about local elections here in Cleveland is the familiarity of last names winning elections. For example, Andrew Santoli campaigned extensively and earnestly for a seat on the Court of Common Pleas, only to lose to someone with an Irish surname. Change can only come by shaking off our own familiarity.