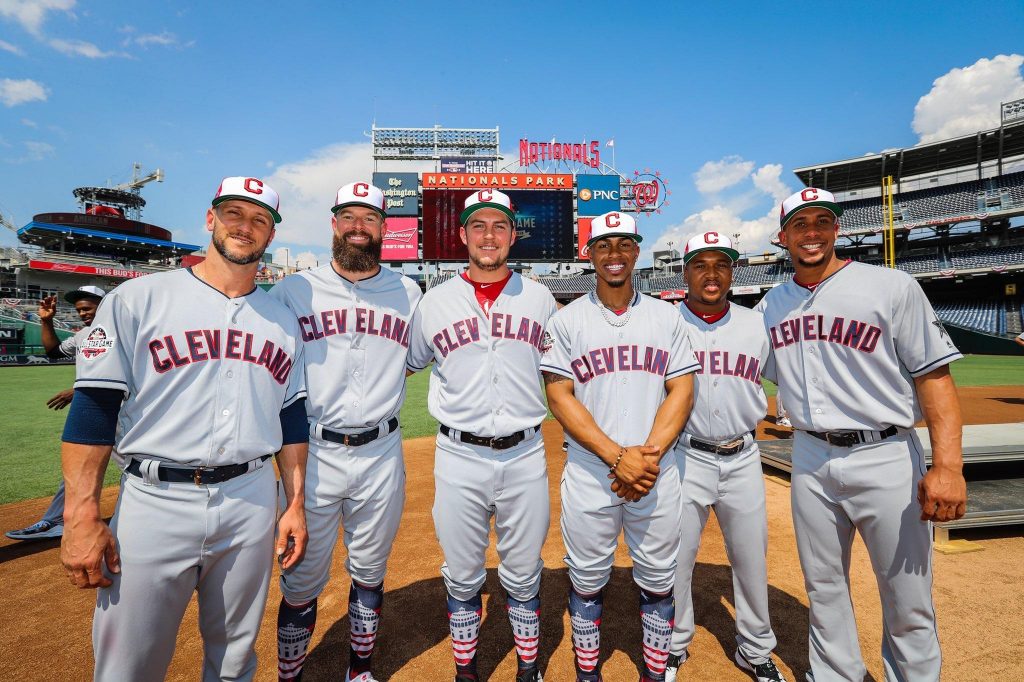 Indians Mid-Term Grades at the All-Star Break
Now that we've made it past the All-Star break, and the worst four days for sports fans throughout the calendar year, we can take a look at how the Indians have done up until this point. It hasn't been pretty at times. Indeed, the first month of the season was difficult to watch. And with the exception of Oliver Perez, probably every one who's come out of our bullpen thus far has had a four-letter nickname attached to their performance by some fans.
Lineup
Hitters 1-4
Grade: A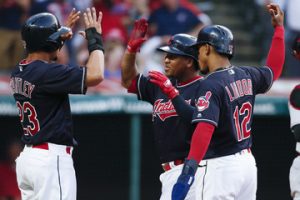 The only thing that prevents this from being an A+ is the month of April. But right now is there really a more potent top of the order in baseball? Certainly the Yankees and Red Sox are solid but they don't compare with what these guys are doing.  And Francisco Lindor and Jose Ramirez are on pace for an historic season for a tandem. When your names are mentioned in the national media with those of Babe Ruth and Lou Gehrig, you're doing something right. Ramirez's hustle on the base paths in Sunday's game was just the latest example of his love for the game and value to this team. Even if he doesn't smile very often.  Between Lindor, Michael Brantley, Ramirez and Edwin Encarnacion they're averaging 63 RBIs at the break.
The only problem with these four hitters is what happens to the offense when they're not at the plate…
Hitters 6-9
Grade: D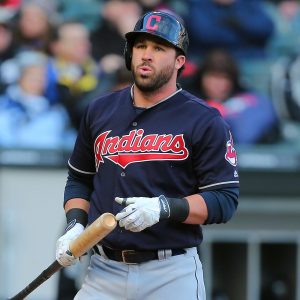 Roberto Perez, Jason Kipnis, Greg Allen, Erik Gonzalez, Jason Guyer, Tyler Naquin, Bradley Zimmer, et. al. have been profoundly sub par. If you're an opposing team you just have to hold your breath through the first 4 hitters (or even 5 if we count Yonder Alonso's relatively solid season thus far) and you know you're probably safe til you see Lindor again. I hope Zimmer gets healthy and turns it around.  It's still fun to watch Rajai Davis on the base paths and he's the second best player who's been slotted in the 6-9 holes, when he does play. The only true bright spot has been Yan Gomes. And, though he's an All-Star, Gomes isn't necessarily threatening to hit .400, but from where he's been the past few years he deserves a lot of credit. It's not often that a ballplayer can have 2-3 successive bad years and re-develop their swing. But the rest of this lineup oozes frustration every time they walk to the plate.
Starting Pitching
Grade: A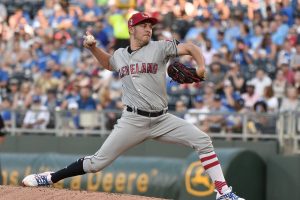 For the most part, Corey Kluber has been Corey Kluber this season. I am a little nervous about the injection he received recently, especially given his difficulties in last year's postseason, not to mention the secrecy that still surrounds it, but I hope it was more preventive than curative. Trevor Bauer's performance this season has been nothing less than exceptional. He's second in the AL in ERA (2.24) by one one-hundredth of a point and third in strikeouts. If the offense would show up when he pitches he'd have 12-15 wins right now.
Much like the lineup of hitters 1-4, the only bad thing about our starting pitching has been what happens when they're not throwing…
Bullpen
Grade: D-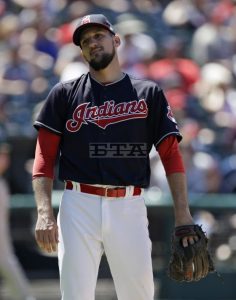 With the exception of Oliver Perez, every single member of our bullpen has been miserable at times or altogether this season. Today's trade to acquire Brad Hand from the Padres is a welcome relief. Along with the bottom of the Tribe's lineup, the bullpen has been the reason no one expects the team to compete with the Yankees, Astros, or Red Sox this fall.
Defense
Grade: C+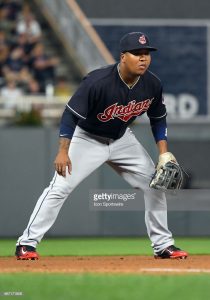 Francisco Lindor probably won't win a Gold Glove this year after winning the Platinum Glove Award last season. So, that's a step back. And without Zimmer in center there's a slight drop off. Alonso has been fine as our new first baseman. I wanted to write that Michael Brantley probably doesn't have the same athleticism or daring he used to, but after Sunday's game I may have to reassess that. Last year the Indians finished the season ranked second in fielding percentage. This year we're currently 18th. The biggest bright spot has been the incredibly defense shown by Jose Ramirez. He's had little trouble adjusting to the hot corner, and makes watching the game of baseball that much more fun. Even when he's in the field.
Manager
Grade: B-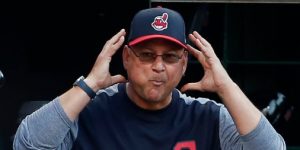 The Indians are in first place, with a lead larger than any other first-place team in MLB. So that should be a cause for comfort. But, Terry Francona's devotion to some of his players is mind-boggling at times. Roberto Perez is batting .148. To put that into context, the so-called "Mendoza line," used to measure batting ineptitude for decades, is .200. And, to further illustrate the point,  his average is only  .148 points higher than mine. (And please don't give me the tired excuse of how he's such a great game caller or defensive wizard). There's also been a lack of creativity when it comes to the lineup itself, and the players on the field. Seemingly everyday we know who will be playing, where they'll be batting, and how they'll perform. We all understand that Francona's relationships with his players is part of what makes him so well-liked by the team and one of his greatest strengths as a manager. Don't get me wrong, as far as leading a team through the grind of a 162-game season, Francona is still about as good as it gets.  Maybe Tito is waiting 'til later in the season to establish a consistent lineup that will inspire more confidence…time will tell.
Pitching Coach
Grade: D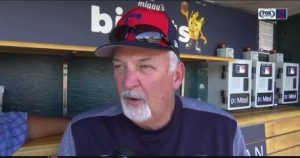 It may seem unfair to blame Carl Willis for the failings of our bullpen, while not giving him credit for the strength of our starting pitching. But, hey I'm not a professional pitching coach. Indians fans were spoiled by the brilliance of Mickey Callaway (who might wish he was still here). The implosion of Josh Tomlin and Dan Otero's utter lack of confidence are just two of the most glaring failures of Willis.
Hitting Coach
Grade: C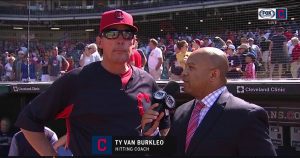 Like Carl Willis, Ty Van Burkleo is walking a tightrope. The first half of the team's lineup makes him look like a hitting wizard. The latter part of the lineup makes you wonder if he's ever watched a baseball game before. And, like Willis, it's neither fair nor unfair to blame/credit Van Burkleo. It's part of the job. As far as Francona's loyalty to players and coaches, Van Burkleo is exhibit A. He's been with Tito since he arrived here and by this point there's no reason to think Van Burkleo will ever leave except of his own volition, no matter how often our offense disappears at times.