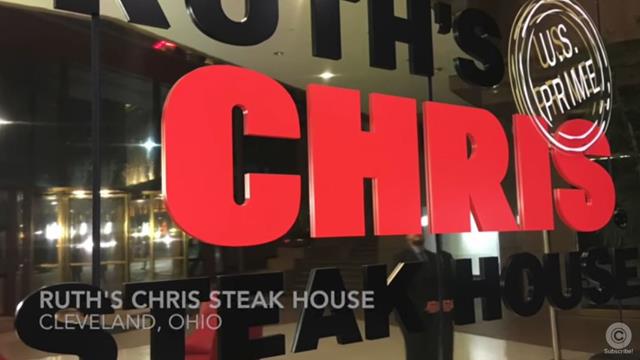 I generally don't like reviewing chain restaurants since one imagines their menu is the same no matter where you go, and they hardly give off a northeastern Ohio vibe. Nor do i like eating at chains by and large, though there will be a female Pope before I turn down a trip to Olive Garden. But, when someone says this is the place they want to have dinner and it's that person's birthday, you go.
Tucked inside the Huntington Building, Ruth's Chris is a large restaurant with multiple entries and exits spread over two floors. The ambiance was okay, yet at times it gave me a 1970s or 1980s feel with its upholstery and tables. Though it was not busy the evening I went, there still seemed to be some confusion as to who the server was and who the server's assistant was.
The lobster bisque was good though not earth-shattering like Pier W's. You can order a straight up entree, but it won't come with side dishes. So, you either have to get one of their 3-course menu specialties or order a $10-$12 side. (I got creamed spinach which though fine it wasn't nearly as flavorful as other places). Or, just order your entree and get a plate with a piece of meat on it. I opted for the lamb chops which were certainly tasty and perfectly cooked, though missing a zestfulness you might find elsewhere. I had some of my cohort's steak and it was undeniably juicy and quite good.
Perhaps the biggest surprise was that this was the most I've ever spent for dinner for two at a restaurant in Cleveland. Which boggles my mind a bit. Not that my meal should be inexpensive, but that it was at Ruth's Chris I broke my check record.
Maybe it's my bias against national chains, or maybe it's the tortured name of the chain itself, and the unimpressive gimmickry of the sizzling plate, that left me wanting more when I left. Nevertheless, I would encourage Clevelanders to find another place for their steak. And I most certainly would advise out-of-towners to veer elsewhere if they want a Cleveland experience that matches the food.