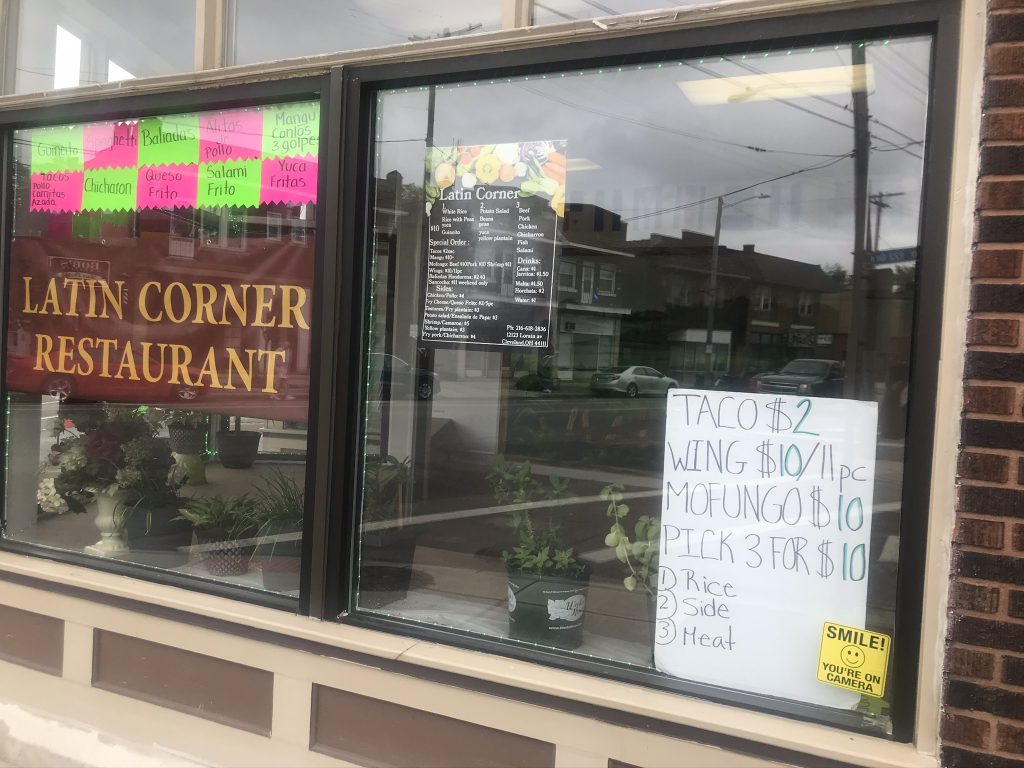 When a new restaurant opens up in the neighborhood I'm like a kid on Christmas morning. And Latin food to boot! Parking on a side street I walked in around 11 AM on a weekday after a trip to a nearby dentist. The restaurant itself only had two tables set up, but that may have been due to COVID-19 precautions. The bright interior decor catches your eyes immediately and you're drawn to the immense mural seen below. Though I took my food home, you can certainly eat in.
You order at the front counter which has all the options displayed in roasting pans behind a glass case.The menu hangs on the wall and offers everything from tacos, mofongo, wings, and more. They have an easy to discern combo option where you choose a main meat (or vegetable) dish and two sides. I went with the roasted pork, yellow rice w/peas, and apparently not wanting to deviate too far from my Western European heritage, the potato salad. I must confess I should've tried the yuca root, something I've never had, but maybe next time. I complemented the meal with a Strawberry Jarritos, the popular soda brand from Mexico. The whole meal cost $11.50. You get an extremely generous portion (it took me two sittings to finish it).
The pork was exceptional, but even better was the rice and peas. Distinct in taste but not exotic. Dry rice is not uncommon, especially after sitting in pans for however long, so its moistness and flavor was a delight. I don't know how they keep it so moist or if it's as simple as adding water throughout. The potato salad was pretty good, and though I might've expected something jazzier, it was pretty straightforward. And you get a healthy serving of that as well.
If you like hot sauce, you have two options. The red one was almost certainly some standard bottle sauce along the line of Franks. However, make sure you ask for the homemade sauce they create themselves. Hot damn it was good. The brownish-colored sauce was out of this world and the most distinctive part of the whole meal.
The restaurant was staffed/owned by a friend, diverse group. The gentleman waiting on me was Salvadoran, with the other two staff members on-hand being Honduran and Dominican. The best part…he lived only a few blocks away making him both a neighbor and a true stake-holding member of the community.
Afters months and more of planning and dream-making, Latin Corner opened up May 1st, right in the midst of a global pandemic. So let's do what we can to make sure they succeed. I'll definitely be back and hopefully I'll see you there.
Latin Corner
12123 Lorain Avenue Cleveland