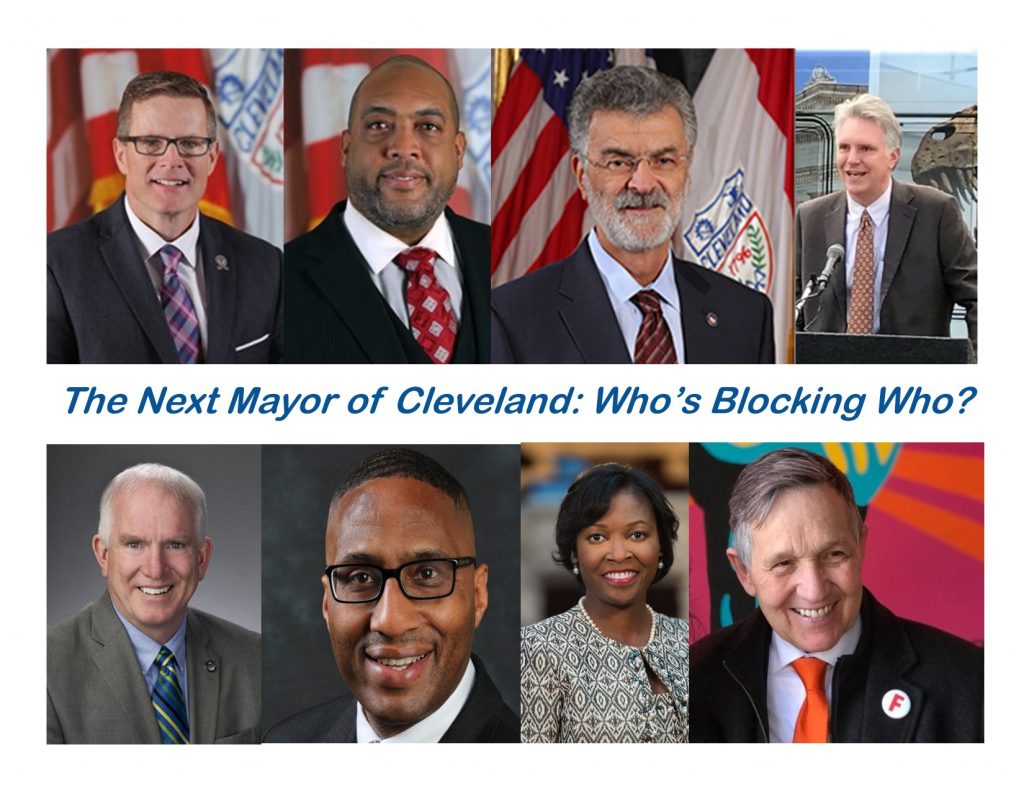 Race for Mayor: Jockeying & Blocking for Cleveland's Top Job
I'm not holding my breath, but next year's election for Mayor of Cleveland has the potential to be one of the most electrifying the city has witnessed in decades. The number of candidates. The possibility for someone or someones proposing ground-shaking new polices. On the other hand, it could devolve into one of the most excruciating. The field has hardly been set, and in reality only one candidate is (semi) openly campaigning for the job now. What will take place over the next 6-8 months will be a form of jockeying and posturing akin to a medium-stakes game of Tic-Tac-Toe. Candidates will not only be aiming to elbow out the competition in the American tradition of raising enough money to scare off others, but in trying to block others from entering in terms of geography, vote-getting ability, race, and gender in the same way one might use and X or an O to stymie an opponent in the childhood game.
Unfortunately, the duality of race and geography, which have bedeviled electoral politics in Cleveland for the better part of a century, will cast their shadow in this race as perhaps no other. The goal of a post-racial Cleveland may not be realized, and it should never be jettisoned, but consider that 10 years or so ago many political thinkers in the city thought it well nigh impossible for a white person to be elected mayor. And beyond this, despite all the current candidates being Democrats, can any one candidate galvanize the city's not insignificant progressive crowd, as happened in other urban areas like Chicago with Lori Lightfoot?
Perhaps more than at any point in recent memory this could turn into an east-west match-up. It's a shame the battle for chief executive of the city should be viewed this way, but just as shameful there are too many west-siders whose exposure to the east side ends at Playhouse Square before picking back up again at Legacy Village and too many east-siders whose primary west side experiences take place either in the Flats or at Great Northern and South Park malls. Here's hoping that people don't vote out of any tribal loyalty, whether that involves race or geography.
In addition to the personal narratives of each candidate, they must lay out a compelling vision for the city beyond name recognition or campaign fundraising. If we're going to have a new mayor for the first time since 2005, he/she must craft an all-encompassing economic, environmental, social, and cultural vision that–20 years later–finally brings Cleveland into the 21st century. If Cleveland's rebound along these lines doesn't occur, the entire Northeast Ohio region will not rebound either. Possibly ever.
Many of the following should also be considered candidates for County Executive or Congress, and possibly even City Council, once the districts are redrawn in the next few years. And we shouldn't discount the idea of an outsider, a la Ken Lanci in 2013, entering the race as well. I have no dog in this fight. Just trying to weigh the pros and cons with the word on the street.
Blaine Griffin
The Ward 6 councilman is a workhorse. His constituent services are beyond admirable. Multiple members of his ward have said point-blank to me that while they'd like him to be mayor, they don't want to lose him as a councilman. Which is pretty high praise. One certain blemish on his record is the "Protect this House" speech he gave last fall on the floor of council chambers. These ill-advised, and I thought, out-of-character statements, will surely be brought up should he run. And, rightly or wrongly, he'd be viewed buy some as a 5th Jackson term. There's also reason to believe, especially given his spirited defense of Kevin Kelley over the SEIU kerfuffle, Griffin may be angling to become the next President of Cleveland City Counci to the benefit of Kelley's mayoral bidl. Either way, he will be heard from again and his political future has a high ceiling.
Basheer Jones
The Ward 7 Councilman has a most intriguing backstory, blending together personal adversity with hopefulness to create the passion he's known for. A good public speaker and compassionate advocate, he's been dogged by recall petitions since winning election in 2017. And, his connections to New York may not benefit him in trying to win over Clevelanders. Depending on who else runs, there is a chance Jones could make waves in the race.
Kevin Kelley
If you're one of the "lucky" Cleveland residents with a Facebook account, you've probably seen Kelley's ads. And Scene ran a hum-dinger of an article amplifying Kelley's fundraising prowess to date, as well as a pointed argument for why they don't think he should be mayor. There was some talk a year or so ago that the current Council President might be positioning himself for County Executive, but every indication now is that he is running for mayor against all comers. He surely has the name recognition and business ties to command respect within the race. But, one wonders if he has the genuine vote-getting ability. My guess is that Martin Sweeney would likely finish ahead of him, as would Dennis Kucinich, if either one of them runs.
Dennis Kucinich
He's been making more and more appearances in Cleveland, at spaghetti dinners and on the pages of the Plain Dealer, including an op-ed about the woefully mismanaged West Side Market. Coming off a gubernatorial run in 2018, Dennis clearly doesn't believe in going quietly into the night. Turning 75 in 2021 might normally be a drawback, but Kucinich has always been a personal dynamo and considering the ages of the two contenders for President of the United States, it likely won't be a hindrance. There's a certain, though dwindling, segment of the population, almost exclusively on the west side, who will vote for him under nearly any circumstances. And after the egregiously partisan way he was "drawn out" of Congress he's surely chomping at the bit and could use that to his sympathetic benefit. But there's also a segment of the younger population who seeks new blood and the Cleveland Twitterverse was recently ablaze with those who think his time is passed and hunger for a new era of leaders. (See Justin Bibb below).
Zach Reed
The former councilman would really like to be mayor. And he does have a following as witnessed in his second-place finish in 2017, where he injected a modicum of excitement into the race. The sad reality isn't that he can't become mayor necessarily, it's that if he somehow made it to the runoff, he would probably lose again, whether that person hails from the east side or the west.
Chris Ronayne
A champion of the city and its rich history, Ronayne has the intellect, energy, and relationships to succeed at the job. If he's able to win that is. As the head of University Circle Inc., and Edgewater resident, he possesses the east-west pedigree that could serve him well, but having never held elected office he has a base in neither area. Yet, if he were the only west-side resident to face-off against say Kevin Kelley, he'd have a chance. A crowded field—particularly one heavy with west siders—hurts his chances. My guess is that someone with his profile and ability along the economic development lines will make a strong candidate for County Executive instead.
Martin Sweeney
The former City Council President and State Representative is a fascinating option and could become a superb study in understanding the goals of our city's voters. After being defeated by Nickie Antonio in the 2018 Democratic primary for State Senate, which may have caught off guard those who weren't aware of the colossal progressive force of Lakewood's electorate, Sweeney has kept a mostly low profile, yet he's still as vigorous as ever and aims to get back into electoral politics at some point. Having represented two Cleveland wards in the statehouse, he could emerge as the west side favorite especially considering the voting behemoth that is Ward 17, along with the votes of his native Ward 16. Surely some of the baggage he faced in the contest against Antonio, and close ties to business interests, might harm him with some voters, but the latter could also help him reach voters in the first place, in terms of money he could raise. As far as being a champion for Cleveland itself few could compete. Quite frankly it seems like he'd finish ahead of Kevin Kelley, at least in terms of west side votes, if both names appear on the ballot.
Sandra Williams
State Senator Williams would be a compelling candidate for three primary reasons. One, her senate district covers roughly 2/3rd of the city of Cleveland, meaning east side voters are very familiar with her. Second, her personal story as a former CMSD student sets her apart (along with Basheer Jones). Third, it's my opinion, and that of others, that she will help whittle the field down should she enter, both east and west, as the nearly 100,000 votes she received in her most recent race, albeit some of it outside the city, serve as ample discouragement.

X-Factors
Justin Bibb
When Brent Larkin penned a piece on the potential of Dennis Kucinich running for mayor again, it caught some by surprise, despite his heightened visibility in the area. At the time, quite a few (particularly Gen Xers and younger) didn't exactly jump for joy at the idea. And Justin Bibb, one of the leading voices for transit reform amongst other things, had his own take:
No disrespect to the former mayor, but Cleveland desperately needs a new generation of leadership. We can't afford to keep looking back while the country and the rest of the world leaves us behind. #CLECantWait #Leadership #NextGeneration https://t.co/ZqDhdGIoga

— Justin M. Bibb (@JustinMBibb) March 6, 2020
Bibb's Tweet begged the question, "When will Justin Bibb run for office?" The answer appears to be: very soon. Talk of his entrance into this race have been brewing for a couple months now. His youth, outspokenness on issues that matter to younger people, and intellect make him a potential force. Having never held office, and as a neophyte running in a race for a job few newcomers have won, he might take a few lumps. But he's a dynamic figure who could attract the type of committed grassroots energy necessary for success. Thus, he could make a significant splash in this race.
Frank Jackson
Trial balloons have been floated. His vote-getting prowess is established. In the end it comes down to Jackson himself. Despite massive opposition to him in large swaths of the city (predominantly west of the Cuyahoga River) it's hard to think he could be kept out of a runoff in the general election. Indeed, he may be the only candidate not cowed by any other specific candidate. Yet, my hunch is that his "butthole" comment ended his political career, even if he wasn't sure he wanted that.
Nina Turner
Since we know the former State Senator and statewide candidate will not be serving in a Bernie Sanders administration, one obstacle to her entrance has been eliminated. There's no clear indication Turner will be running. Though it would be a great step forward to have more than one woman seeking the position, Williams and Turner may unfortunately cancel each other out on multiple levels.
Matt Zone
Every indication is that he will not run for re-election to City Council, much less mayor. Which is unfortunate since he is energetic and a leading light on environmental issues. All traits one would want in a mayor. Which also would've made him a favorite of area progressives…until the recent snafu over his son's employment with the Division of Police.
Also-rans who perennially run for this office, for reasons of self-glorification, are not included.